How this all works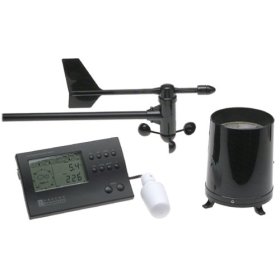 The Oregon Scientific WM-918 (wired) Weather Station
The Thermo-Hygrometer
The temp/hygro sensor has been placed under the eaves at the south eastern side of the house where it is never exposed to direct sunlight. The sensor is 2.4m off the ground.
The Anemometer
The anemometer measures wind speed and direction. The anemometer wind speed operating range is up to 200kph and has a accuracy resolution of +/- (plus or minus) 0.64kph. In steady wind conditions the anemometer transmits new readings to the display unit once every minute; in gusty conditions, gust updating occurs every 14-seconds. Wind direction operating range is 0° to 359°. Data transmission to the display unit occurs every 5-seconds.

The Rain Gauge
The Rain Gauge measures rainfall in 1.0 millimeter increments reflecting current rainfall or accumulation, the unit stores total rain fall from the last time the unit was reset. The Rain Gauge features a self-emptying rain collection unit which provides a pulse each time the corresponding unit of rain is measured. Daily rainfall sampling rate is every 24-hours, rainfall rate is at every tipping interval (1mm).

The Main Display Console
The Main Console receives the data from the outdoor sensors, and processes it for output to a dedicated onsite pc (server) called "weather" The data is sent to the weather server via a RS232 (serial) link.

The File Servers
The sensor data is received via the RS232 (serial) link

The stations file servers; "weather" is on the left. It runs 24/7 (since 1 January 2003) and does all of the data processing in real time using 'FreeWX' weather software. This server is connected to broadband internet, and sends daily weather update emails (contact us to be included in daily 9am weather bulletins) and generates the updated web pages every 3 minutes derived from 'templates' written in the HTML markup language. It also controls the webcam that can be found here: http://www.aussiesky.net/weather/weather6.html which updates every 3 minutes between sunrise and sunset.

The server on the right ("telescope") does something else.


The weather software
FreeWX running on "weather". This is the main display screen.
Most of the time, the monitor is turned off and everything just runs automatically. In theory anyway......
The software keeps continuing archive records of various conditions such as temp, humidity, wind dir and speed etc every 15 minutes of every day. We have records in Excel format back to Jan 2003.

Click on image for full size. Other software used: FreeWCAM, Ghostwriter, WebCapture, AAGCloudWatcher, AAGWebC2C, JavaScripts, Perl Scripts.

Live Cloud Sensor
Live, onsite cloud sensor constantly monitors sky conditions above the weather station and generates graphs of cloud coverage and light levels, as well as detecting rain. The rain detector reacts to light rain (only needs a few drops on sensor) and displays a 'Now Raining' icon on the weather web page while it continues to rain. Updated at 3 minute intervals for accuracy.

New! Night Sky Camera
Dedicated CCD night sky camera (G-Star EX) switches on after sunset and looks looks up 45° to the South . Updated at 3 minute intervals.

---